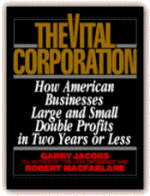 Companies like Navistar International, Phillips Petroleum, Intel Corporation, and Dreyer's Grand Ice Cream don't at first seem to have anything in common. Some of them are old and others are new. They come from all parts of the country. They serve different markets with widely different products.
But each of these companies has recently doubled its profits in just one year.
According to Garry Jacobs and Robert Macfarlane, every company-no matter how large or small-can achieve rapid, sustained, and profitable growth by tapping into five unlimited sources of energy: market, technology, people, capital, and organisation. In this book they show how you can harness these energies, and
| | |
| --- | --- |
| | Forge a strong and caring relationship with your market and use that relationship as the fuel for future growth |
| | Energize technology in your company and establish a high profile reputation for innovation and uncompromising quality |
| | Attract talented, energetic people to your organization and inspire them to produce 100% |
| | Maximise the power of your capital resources and use them to energize the other components of your business |
| | Develop a flexible, highly responsive organization that promotes individual freedom and creativity, while remaining focused and highly disciplined |

This is book about the process of corporate growth-what makes it happen, what makes it stop, and how it can be accelerated in any company to dramatically increase revenues and profits within a very short period of time.
The Vital Corporation illustrates this process with inspiring examples of companies of all sizes drawn from a wide range of industries, which have utilized the process to double or even triple their profits.
The Vital Corporation also contains specific strategies for applying these principles-plus a series of detailed exercises to assist you in making the ideas in this book as real and as relevant as possible.


and
are management consultants and founders of MIRA International, a Napa, California-based consulting firm, which specializes in work for rapidly growing companies. Their extensive experience includes assignments for a wide range of companies in the U.s., Europe, and India, from basic manufacturing to hi-tech electronics, from under $1 million to over $1 billion in size. They have conducted executive training programs for retail and manufacturing associations and corporations in the U.S. and Europe. Jacobs is the co-author of the best-selling book, The Vital Difference: Unleashing the Powers of Sustained Corporate Success.